Palos Verdes Real Estate
Home
"Palos Verdes Resident since 1947"
History & Current Events Category
And on it goes. Demand for homes continues to outstrip supply. Reasonably-priced houses in Palos Verdes are selling within a week, often with multiple offers. You pretty much can't buy a house on the Hill for less than $1.3 million, which generally gets you a 3 bedroom, 2 bath 1400 square foot original 1956-1963 house in RPV without any kind of a view and probably needing work. I remember when the original Grandview houses were built by Zuckerman in 1956...Continue Reading!
I recently gave a lecture ambitiously titled "The History of Palos Verdes" at Hesse Park. There have been many requests for recordings/videos of it. Until I can edit it, etc, here is the raw footage, compliments of videographer Jeff Koven who, if you need professional video services, is the guy to call: https://drive.google.com/file/d/1jIFwDAIBdJMiJZhNSjIwXd2esyN6RV97/viewContinue Reading!
Dear Neighbor: Local real estate prices continue to hold up better than most of us predicted, the primary reason being a lack of houses for sale. Reasonably-priced houses are selling instantly, often with multiple offers. Nationally prices are down 12% from the June 2022 peak, although locally it feels like they are down less. One reason for the smaller than predicted decline, apart from others I've discussed in previous newsletters, is the reticence of current homeowners to give up their low...Continue Reading!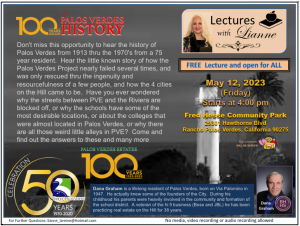 As you probably know, I've lived in Palos Verdes for 75 years -- probably why they made the President of the Palos Verdes Historical Society. On May 12 at 4 pm at Hesse Park, I will be giving a one hour presentation on the history of Palos Verdes, beginning with Frank Vanderlip's 1913 purchase of the Peninsula. I'd like to begin in 1821 with Mexico's independence from Spain, but I only have an hour. Much of this is from my...Continue Reading!