Palos Verdes Real Estate
Home
"Palos Verdes Resident since 1947"
Palos Verdes Information Category
In my last letter I briefly discussed the market statistics. I'm not a big fan of statistics as they can be misleading, but in this case they illustrate a current trend – the market is slowly slowing, which any experienced agent will tell you just by the "feel" of it. When I wrote my last newsletter 60 days ago there were 112 houses for sale on the Palos Verdes Peninsula with an average time on the market at about 30...Continue Reading!
Like being at a B & B in Italy, this 3 bedroom 2 bath one level home just exudes charm and privacy. From the private front courtyard to the expansive view of the Pacific and Santa Monica Mountains, this is truly a unique property. You'll have a hard time finding another like it. $1,699,000. Closed escrow -- sold inside of a week. [ngg src="galleries" ids="124" display="basic_thumbnail" thumbnail_crop="0"]Continue Reading!
And on it goes. Demand for homes continues to outstrip supply. Reasonably-priced houses in Palos Verdes are selling within a week, often with multiple offers. You pretty much can't buy a house on the Hill for less than $1.3 million, which generally gets you a 3 bedroom, 2 bath 1400 square foot original 1956-1963 house in RPV without any kind of a view and probably needing work. I remember when the original Grandview houses were built by Zuckerman in 1956...Continue Reading!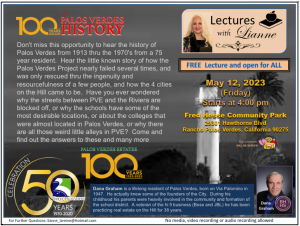 I recently gave a lecture ambitiously titled "The History of Palos Verdes" at Hesse Park. There have been many requests for recordings/videos of it. Until I can edit it, etc, here is the raw footage, compliments of videographer Jeff Koven who, if you need professional video services, is the guy to call: https://drive.google.com/file/d/1jIFwDAIBdJMiJZhNSjIwXd2esyN6RV97/viewContinue Reading!