Palos Verdes Real Estate
Home
"Palos Verdes Resident since 1947"
Top floor penthouse corner unit, has the be the best location in the complex, with a 180 degree view of PV and the coastline. 2 bedroom 2 bath 1045 square feet, light and airy with that cool ocean breeze. Amenities include pool, weight room, sauna, ping pong, pool room, covered parking. 2 covered and secure parking spots. Walk to shopping, restaurants, the beach! Attractively priced at $525,000, so don't wait. [ngg_images source="galleries" container_ids="73" display_type="photocrati-nextgen_basic_thumbnails" override_thumbnail_settings="0" thumbnail_width="300" thumbnail_height="225" thumbnail_crop="1" images_per_page="20" number_of_columns="0" ajax_pagination="0"...Continue Reading!
September, 2017 Dear Neighbor: The number of homes for sale in Palos Verdes has been gradually climbing. This may be because some homeowners want to take advantage of the all-time high current prices for them, tho I'm sure those high prices also eliminate some of the buyers (the market has slowed somewhat). For perspective, however, bear in mind that "inventory" levels have been near all-time lows in the past year or so, so they're only up compared to that. It remains...Continue Reading!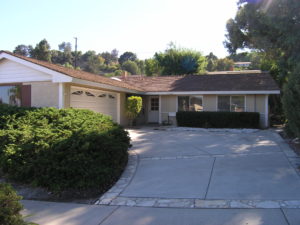 This is leased. Just reduced to $3400/month, and lovely 3 bedroom 2 bath one level 1600 square foot single family residence that is walking distance from Peninsula High, Peninsula Center, and Silver Spur Elementary school. This is below market, so don't wait!! Continue Reading!
Dear Neighbor: The real estate market continues with a general shortage of houses for sale, although the number of homes on the market has been growing for the last few months. As is always the case, the homes that are priced right sell quickly. The reasons those that don't, are usually related to asking price. We can talk more about this when we meet. There are a lot of things they don't teach you in Real Estate school. Yes, you do learn...Continue Reading!