Palos Verdes Real Estate
Home
"Palos Verdes Resident since 1947"
And on it goes. Demand for homes continues to outstrip supply. Reasonably-priced houses in Palos Verdes are selling within a week, often with multiple offers. You pretty much can't buy a house on the Hill for less than $1.3 million, which generally gets you a 3 bedroom, 2 bath 1400 square foot original 1956-1963 house in RPV without any kind of a view and probably needing work. I remember when the original Grandview houses were built by Zuckerman in 1956...Continue Reading!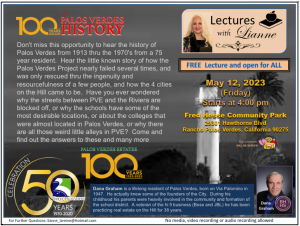 I recently gave a lecture ambitiously titled "The History of Palos Verdes" at Hesse Park. There have been many requests for recordings/videos of it. Until I can edit it, etc, here is the raw footage, compliments of videographer Jeff Koven who, if you need professional video services, is the guy to call: https://drive.google.com/file/d/1jIFwDAIBdJMiJZhNSjIwXd2esyN6RV97/viewContinue Reading!
This 18,855 square foot buildable lot is in a very private location with a panoramic view of Catalina, the ocean, and coastline. Only $650,000 when you buy the adjacent residence at 6347 Tarragon Rd, RPV. This has now closed escrow. It was sold to the same buyer as bought the adjacent house [ngg src="galleries" ids="120" display="basic_thumbnail" thumbnail_crop="0"]Continue Reading!
[ngg src="galleries" ids="119" display="basic_thumbnail" thumbnail_crop="0"]This sold at full price to the buyer who also bought the adjacent lot. For the ultimate in privacy, this one level home is perched high on the hill with a sweeping view of the ocean, the picturesque Palos Verdes coastline, and Catalina Island. You will find your quiet refuge here, where you can enjoy the famously excellent climate on the south side of the hill and be free from the noise and bustle of the...Continue Reading!