Palos Verdes Real Estate
Home
"Palos Verdes Resident since 1947"
Tucked away on a quiet street in prestigious upper Malaga Cove, this one level home features a sweeping view of Santa Monica Bay and the Queen's Necklace. This is a complete remodel, light and open, with skylites, large rooms and an open island kitchen that has every amenity you could want. The rear garden is exceptionally enchanting with a waterfall emerging from a rock wall, a dreamy path up to a private seating area, complete with fire pit, and a...Continue Reading!
Dear Neighbor: Local real estate prices continue to hold up better than most of us predicted, the primary reason being a lack of houses for sale. Reasonably-priced houses are selling instantly, often with multiple offers. Nationally prices are down 12% from the June 2022 peak, although locally it feels like they are down less. One reason for the smaller than predicted decline, apart from others I've discussed in previous newsletters, is the reticence of current homeowners to give up their low...Continue Reading!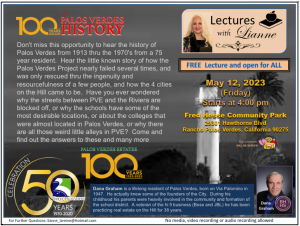 As you probably know, I've lived in Palos Verdes for 75 years -- probably why they made the President of the Palos Verdes Historical Society. On May 12 at 4 pm at Hesse Park, I will be giving a one hour presentation on the history of Palos Verdes, beginning with Frank Vanderlip's 1913 purchase of the Peninsula. I'd like to begin in 1821 with Mexico's independence from Spain, but I only have an hour. Much of this is from my...Continue Reading!