Palos Verdes Real Estate
Home
"Palos Verdes Resident since 1947"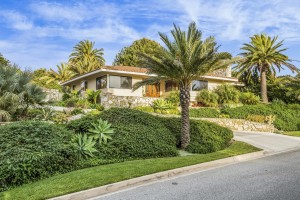 This lovely 3 bedroom 2500 square foot home at 1408 Via Gabriel, PVE, sold over the asking price of $1,695,000 before I could get it to market. Continue Reading!

I was named #1 Berkshire Hathaway agent in PV for 2014, which is kind of impressive since I have no assistants, secretaries, sub-agents, or anything else.  If you click on the re-print below, you can actually read the whole thing.  If my clients hire me, they get me for everything. Check the Testimonials in the upper right to see what my clients think of me.  Call me and become one -- 310 613-1076. Continue Reading!
May, 2015 Dear Neighbor: I'm not sure if the entire market is going crazy or just my share of it.  In my last letter I mentioned that there were not a lot of homes for sale.  That continues to be true, with the only ones not selling being those who, trying to take advantage of the market, have overshot the mark on the price.  Speaking for myself, I can hardly get my listings on the market before I have really good offers. ...Continue Reading!
New on the market for the first time in 50 years is this cute 2 bedroom 1 bath home on a nearly 10,000 square foot flat lot.  At 1308 square feet the rooms are large, there is a wood-burning fireplace, an eat-in kitchen, and inside laundry.  The 2-car garage is detached and has an attached workshop with 3/4 bath.  See all the pictures in the attached gallery.  $1,050,000. Continue Reading!