Palos Verdes Real Estate
Home
"Palos Verdes Resident since 1947"
Dear Neighbor:
The real estate market in Palos Verdes (and the South Bay, for that matter) continues at about a 5 on a scale of 10 activity-wise.  It feels slow compared to last Spring, but those of us who have been around for decades have seen this movie before.  The interest rate rise of last June acted as a speed bump, slowing the market to a more normal pace.
Whether you're in the real estate market to buy or sell, or not, my website, www.DanaGraham.com, has gotten rave reviews for the helpful and informative articles I've written and posted on it.  If you know me, you know that I'm a "cut to the chase" kind of guy, and am not afraid to de-bunk commonly held misconceptions.  I even have a section on the site called "Myths and Misconceptions" where I get into the truth as it relates to popularly-held beliefs and current crazes such as internet sites Zillow and Trulia.  I also have articles on "How to Pick Your Agent", "The Top 10 Reasons Escrows Fall Out", which includes how to avoid that happening to you, "Termites and Other Exciting Stuff", the truth behind "Appraisals", pre-sale fix-up advice entitled "Potential Buyers Won't Take a Shower in Your House", "What Your Kids Don't Know Can Hurt Them", and many others – 22 pages of them, in fact.  Every word was written by me based upon 30 years' experience selling houses; so any questions or complaints should be directed to me.  If you're interested but do not have internet access, let me know and I'll get them to you the old fashioned way.
I have a lovely home for lease at 112 Via Las Vegas in Valmonte right now – over 3000 square feet, 5 bedrooms, 3.5 baths, and rooms for everything – living room, dining room, family room, rumpus room, storage room – you name it.  Speaking of room, it's situated on one and a half lots on a cul de sac.  Pets are accepted, and not just goldfish — we're talking four legs.  $4000/month.  I've got a few other homes in the pipeline, so keep an eye on my website or call me at 310 613-1076.
And now, what I'm sure you've been waiting for:  actual evidence that I'm not making it up when I say I've lived in Palos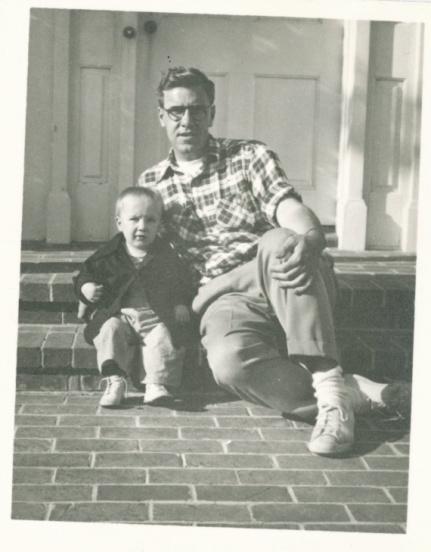 Verdes since 1947.  Recently discovered in the boxes of stuff my mother left me is this picture of my dad and me on the front steps of 3405 Via Palomino in 1949.  We were living in that house while building the one at 4205 Via Pinzon.  I'm on the left.
OK, no more baby pictures.  Give me a call or email ([email protected]) if you're interested in talking about selling your house, buying one, or you know someone who is.  I promise not to make you look at old pictures, unless you want to.
Leave a Reply