Palos Verdes Real Estate
Home
"Palos Verdes Resident since 1947"
Sellers Category
I know we just came on the market July 21, but the seller wants this lovely house sold!  We reduced it August 18th $101,000 to $998,000, so come 'n' get it.  This lovely (and incredibly well-maintained) 2140 square foot 3 bedroom 2.5 bath home within walking distance to Silver Spur Elementary, Ridgecrest Intermediate, Peninsula High, and the Peninsula Center.  Original purchasers of this floor plan had the option for a 4th bedroom, and the framing is still there.  The house...Continue Reading!
My clients lately have gotten my "Stale Listing" speech, which goes like this:  the market has been going bananas for about 18 months.  Whenever this happens, the idea seems to settle in that a seller can pretty much name his price and buyers will beat a path to his door.  There is no shortage of current examples.  If this isn't a sure sign that the market is about to slow down, it certainly contributes to it.  Buyers look at the "comps"...Continue Reading!
Dear Neighbor: The real estate market is showing some signs of cooling as I write this.  Normally the first sign is that listings begin to sit on the market longer than before, often because sellers, thinking the market is so hot they can name their price, do so and things begin to slow down.  Interest rates have begun to creep up (now over 4% -- I can hear the snickers – "4%?  That's usury.  Throw the bums in jail!"), which normally...Continue Reading!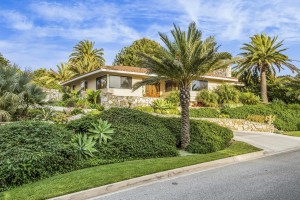 This lovely 3 bedroom 2500 square foot home at 1408 Via Gabriel, PVE, sold over the asking price of $1,695,000 before I could get it to market. Continue Reading!